OH GOD HAPPY BELATED BIRTHDAY

jazzy_peaches
!!!! I realized I had forgotten on Tuesday, and I was like "I HAVE TO FIX THIS" and then I forgot again because I'm basically a monster. I think you're an amazing person whose extraordinary cheer and vibrant nature is always inspiring to me. I wish you a wonderful year with wonderful things and wonderful students. <3
I have a "story" to tell, but that's for it's own entry. It's own, terrible, twisted entry. Stay tuned for that.
Here instead, is part 2 of that meme.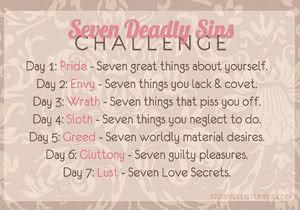 ( Envy: much more depressing that pride, I must say.. )
I've spent nearly four hours working on collections stuff today and I'm not even done. So many letters this week. Uugughghh.